İlke Makine Fırat™ will be in highly appreciated iAutomechanika 2012 Frankfurt Exhibition.
In this major Auto Related Industry exhibition, visited by 165 000 people from 130 countries each year, 4658 exhibitor from 72 countries on an area of 300 000 m², will exhibit recent technology which improved within Automobile, Auto Service Equipments, Automotive related industry spare parts, Automobile paint and painting equipments.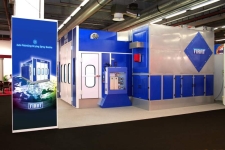 A Wagon Painting and Drying Spraybooth with 30 meter lenght had been produced for SEMAF RAILWAY COMPANY, Wagon manufacturer company in EGYPT, it had been installed and started up at the end of 2006.
Special design exhaust filtration system with Water Curtain has been a standart preference within the painting and drying spray booths being imported to this country